To book an appointment for repair under the Neostar warranty, a completed checklist must be an integral part of the Purchase Agreement and proof of the last service performed per the vehicle manufacturer's prescribed service interval.
Now, how to make an appointment for repair under Neostar PREMIUM warranty?
First, you will have to become our registered user (if you aren't already!).
1. After you have accessed the platform and selected the Service option, the Service home page opens. In the drop-down menu on the general vehicle data entry page, select the age, make, fuel, and vehicle model.
2. After selecting the required parameters, the system further navigates you to select the right engine power and type.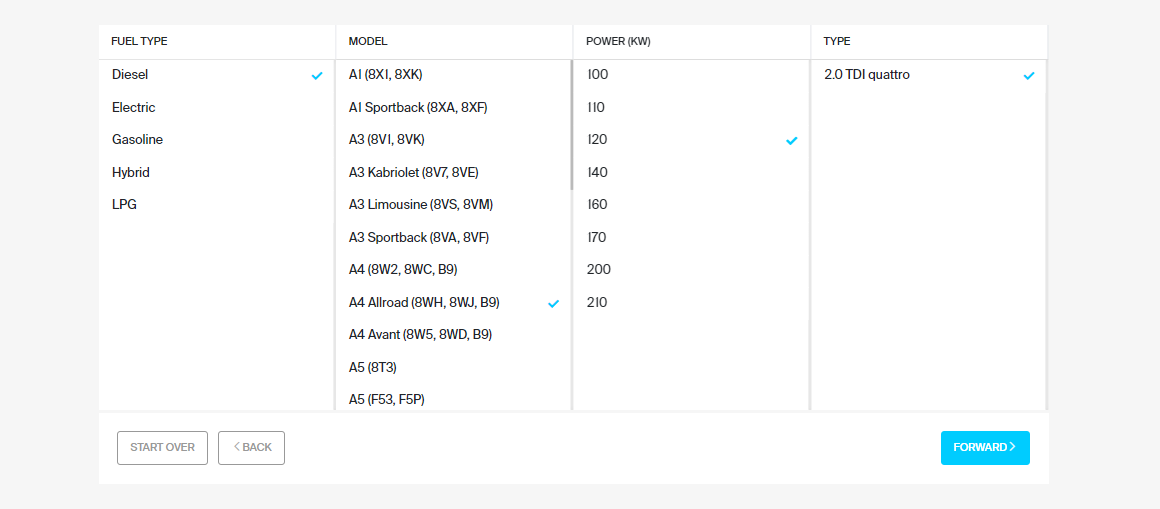 3. Select the NEOSTAR warranty package from the following menu.
4. After selecting the type of service, it will automatically appear in your shopping cart. The next step is to select a service workshop!
5. After clicking on the Select workshop and entering your address, you will be presented with all service centers within the selected area. Each service center will have its prices and information stated on the page to help you make the decision.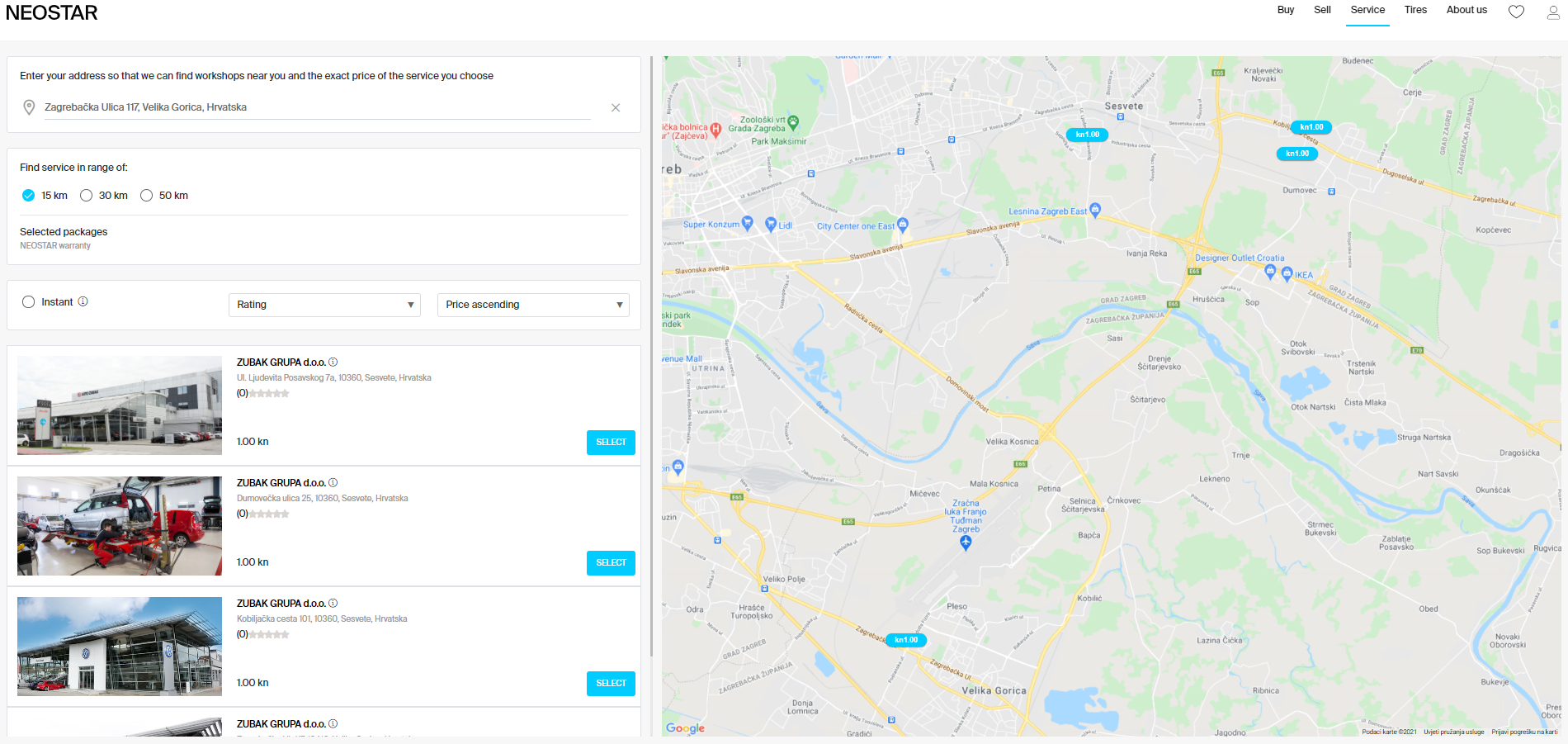 6. After entering the required vehicle information, clarification of the problems you have with the vehicle (option Tell us more about the problem with the car), type of service, the preferred time, and the payment method, the process is completed.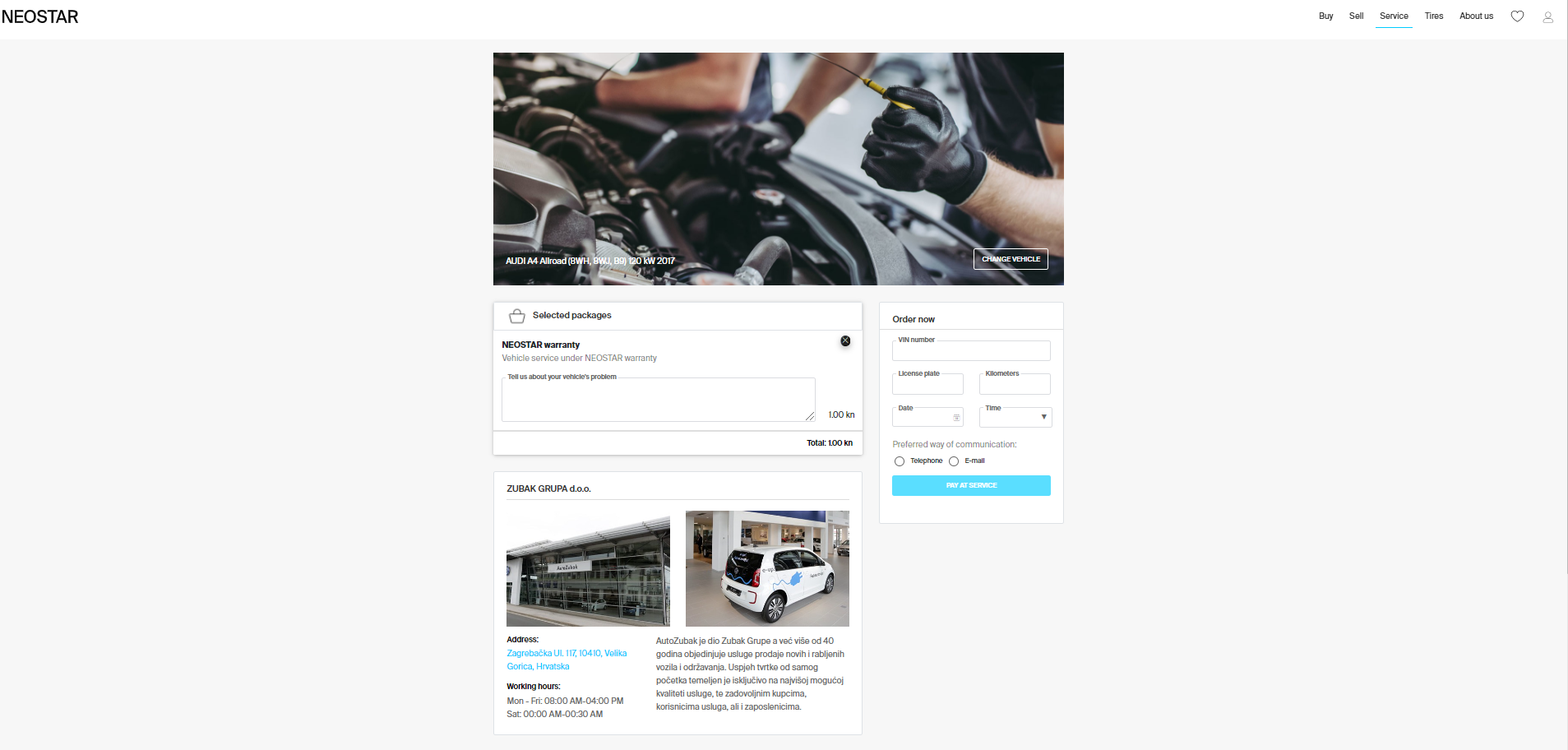 Service center in which you can make an appointment for repairs under the Neostar PREMIUM warranty:


AC JERKOVIĆ OPUZEN Obala Ivana Pavla II 15, 20000, Dubrovnik
AC POREČ Ul. Mate Vlašića 24, 52440, Poreč
AC RAJKOVIĆBJELOVAR Križevačka cesta 20B, 43000, Bjelovar
AC ŠIBENIK Put Bioca 15b, 22000, Šibenik
AUTO DRAGO VINKOVCI Ul. Hrvoja Vukčića Hrvatinića 85, 32100, Vinkovci
AUTO HRVATSKA SPLIT Ivana Pavla II 1a, 21212, Kaštel Sućurac
AUTO HRVATSKA RIJEKA Mavrinci 16e, 51219, Čavle
AUTO RAGUSA DUBROVNIK Obala Ivana Pavla II 15, 20000, Dubrovnik
AUTO ZUBAK OSIJEK Martina Divalta, 31000 Osijek
AUTO ZUBAK POŽEGA Hrvatskih dragovoljaca 35, Novo Selo
AUTO ZUBAK SESVETE Ljudevita Posavskog 7a, S.Kraljevec
AUTO ZUBAK SESVETSKI KRALJEVEC Kobiljačka 101, Sesvete
AUTO ZUBAK SISAK Zagrebačka ulica 49e
AUTO ZUBAK VARAŽDIN Ulica braće Krajanski 13, Varaždin
AUTO ZUBAK VELIKA GORICA Zagrebačka 117, 10410 Velika Gorica
AUTOBENUSSI PULA INDUSTRIJSKA 2/D 52000 PULA
AUTOGASARIUS VUKOVAR Vukovarska gospodarska zona 11, 32000, Vukovar
BONUS TRGOVINA ZAGREB Ivanovićev odvojak 9, 10000, Zagreb
EURO AUTOZADAR DOMOVINSKOG RATA 10, Višnjik, 23000 Zadar
HERBST SLAVONSKI BROD Slavonsko Brodska 15A, 35252 Slobodnica
MUSTAČ COMMERCE VIROVITICA Ul. Ljudevita Gaja 13, 33000, Virovitica
For more information on the conditions of the NEOSTAR warranty, please read the following documents:
"General terms&conditions of Neostar PREMIUM warranty"
"Scope and exclusions of the Neostar PREMIUM warranty".